Welcome, from sunny Australia!
More on ...
The Toyota AE-86 Corolla
Performance car on a budget
On the drivetrain side of things, they have a 6.7" LSD rear end live axle, with solid disc brakes The diff ratio is usually 4.3:1. It's located by four trailing arms, and laterally by a panhard rod.
| | |
| --- | --- |
| | This picture shows the rear end of my own AE-86, but they are very similar all around the world. A couple of things to note is that I've got an aftermarket exhaust system (though the factory one is quite similar) and that I an running an external high-pressure fuel pump in this picture, whereas the factory EFI cars use a pump-in-tank arrangement. (like I do now, too) |

The gearbox is a T-50 5 speed, and treated well they give no problems at all.
(As I write this, my T-50 has been in the car since new, has never been out of the car, never been rebuilt, and has covered nearly 290,000kms so far with zero problems - I only mention this because some people seem to have problems with them when using big HP engines, but I believe that if you treat them properly they're fine.)
The ratio's for the T-50 gearbox are as follows -
| | |
| --- | --- |
| 1st | 3.587:1 |
| 2nd | 2.022:1 |
| 3rd | 1.384:1 |
| 4th | 1:1 |
| 5th | 0.861:1 |
| Rev | 3.484:1 |
| Final drive | 4.30:1 |
Between the gearbox and the diff is a two piece tail shaft. The universal joints are peened into the yokes from the factory so they cannot be changed as you would a normal tail shaft, but it is possible to get the universal's cup machined out to fit a bigger uni-joint, cut grooves in the yoke and so make the universal replaceable. I found that mine was in need of new uni's at about 250,000kms.

The engine is the fabulous 4AGE 1587cc twin cam 16 valve ... which is basically a copy of the Cosworth BDA race/rally engine. They share the same bore and stroke - 81mm x 77mm - and much the same size valves - inlet 29.5mm and exhaust 25.5mm. The exhaust ports are much the same as the BDA, but the inlet is a lot bigger, as Toyota use a device called TVIS (Toyota Variable Induction System) to improve the low to mid range torque. (See my Stock 4AGE page for a full description of the TVIS device & its operation)
The 4AGE comes in many different types, but in the RWD version they usually come as a MAP (Manifold Absolute Pressure) sensor type and so make 130ps, which is ~128hp, or ~96kw. Some countries has the version that uses an AFM (Air Flow Meter, again, see my Stock 4AGE page for details) that makes only about 117hp, 119ps, or 86kw.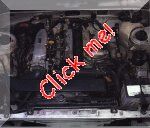 Here are the specs for the definitive Japanese model -
| | |
| --- | --- |
| Weight ** | 930kgs |
| Weight balance F/R | 53/47% |
| Length | 4285mm |
| Width | 1625mm |
| Height | 1335mm |
| Wheelbase | 2400mm |
| Track - Front | 1335mm |
| Track - Rear | 1345mm |
| Wheel size | 13" (14" on "GTV" model) |
| Tyre size | 185/70-13 (185/60-14 on "GTV") |
| Brake diameter F & R | 227mm |
| Fuel tank capacity | 50 litres |
| Coefficient of Drag | 0.38 |
| Engine capacity | 1587cc |
| Maximum RPM (redline) | 7700rpm |
| Power | 130ps (~128hp) |
| Torque | 15.2kg-m (109.5ft-lbs) |
* Note that specs for each country may vary slightly, and so the above figures should only be treated as a guideline.
** I weighed my Aussie AE-86 Sprinter in the early 90's on an accurate set of scales, to get that weight. It had the single cam engine in it, so with a twin cam, etc, it'd be about ~10kgs heavier, I think.

Ok, there is a HUGE range of performance parts available for the AE-86, far too many to even start listing, in fact. You can modify pretty much any aspect of the car to whatever standard you wish .... all it takes is $$$! :)
Here's a couple of lightly modified AE-86's.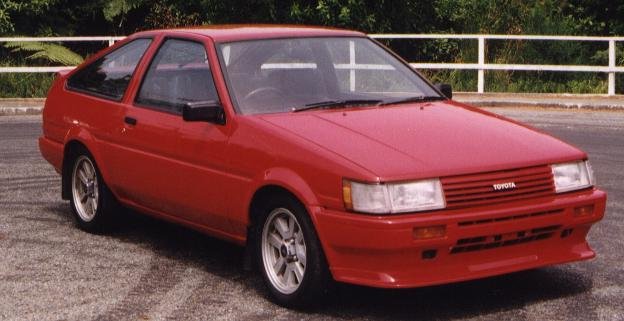 This red one was rebuilt from a wreck by a friend of mine in New Zealand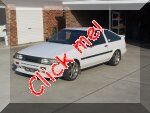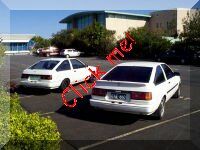 My AE-86 (rego plate OAE-860, gettit?) and Rick Choules' car. Rick built my racing car
Mods for the engine are discussed on my Modified 4AGE page, and I talk about how to get up to about 250hp from the little 1600cc screamer.

As for what the AE-86 can do when modified, here's a short video of one being driven to extremes. The guy does a full 360° spin out of a drift into another drift on the exit.

Superb

car control there.



Back to the AE-86 intro page
---
Back to the Car Index page

Back to the Index page

Page & contents where applicable © Bill Sherwood